2018's recommended beginner's boys equipment package: 
http://www.sportstop.com/STX-Stallion-50-Lacrosse-Starter-Package-Gloves-Shoulder-Pads-Arm-Pads-Helmet

We recommend sizing and trying on equipment at Dick's Sporting Goods in Baton Rouge. Ordering online provides a wider array of sizes and is substantially cheaper unless item is on sale. 
Also, the general size and age guidelines apply: XXS = years and below, XS = 6 to 8 years old, S =  8 to 10 years old, M = 10 to 12 years old and L = 12 plus years old. As always an individual child's sizes and shape will vary. Also factor in child comfort some children will prefer equipment that fits snugly while other prefer it be loose. There is no actual proper fit except for helmets which must be snug and should not move freely or loosely about the head.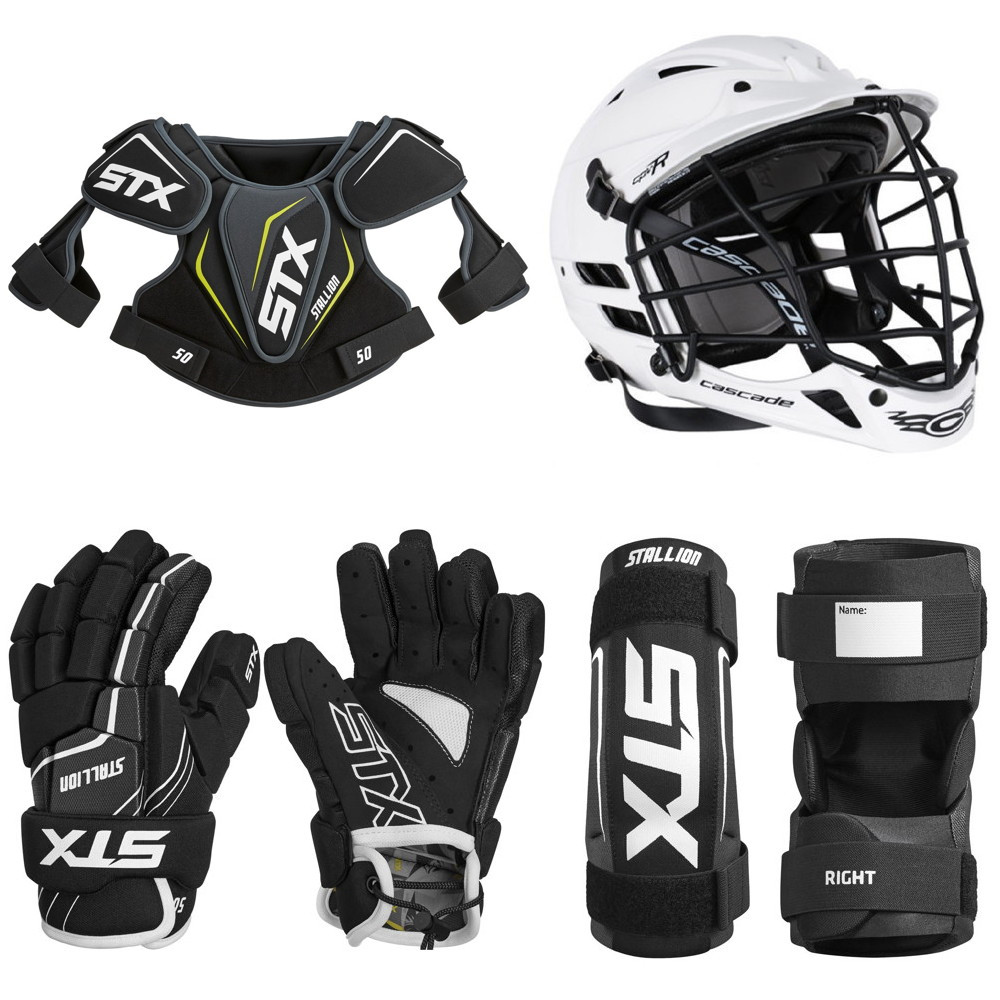 Lacrosse sticks:
The Mustangs sell lacrosse sticks for beginner boys. Please see a coach or administrator about purchasing a stick from the club. We try to keep sticks for all positions and ability levels in stock, so please let us know what you need.  
Below are links to sticks we recommend for new and intermediate players. These can be ordered online and in some cases bought at Dick's Sporting Goods in Baton Rouge. Any advanced U12 or U14 player should consult with a coach before purchasing new heads or stick(s). 
Recommended lacrosse sticks for U6, U8 and U10:

Recommended lacrosse sticks for U12 and U14:

Stick stringing services:
Mustangs Coaches are glad to assist any player in fixing, configuring, or restring any stick in need of attention. Please see a coach for more details. 

General Notes on Equipment:
A $200 lacrosse stick, new gloves, fancy arm guards or a new pocket will not improve your game. You improve your game by practicing, nothing else.
Take care of the equipment you have. If it is wet, dry it out, if it appears dirty or smells, clean it and use deodorizers. Dirty equipment can lead to rashes and infections.
If you are serious about lacrosse and intend to play into or beyond high school you should keep two identical sticks. Same make of head and type of pocket, colors are irrelevant but you should have two shafts, D-poles and goalies can get away with one.
Mesh pockets are preferred for a youth's player's primary stick. Traditional (leather) pockets can be played with but must be well tuned and maintained. Mesh is much more durable and forgiving especially in our wet winter/spring weather. Integrated mesh (Warrior Warp Series) and preformed pockets are also becoming excellent options especially for new players. 
Your lacrosse stick is your instrument and it needs to be kept in shape. Take care of it and it will take care of you, if you don't know how to take care of it or keep it in good shape it ask a coach.
Play with legal equipment. Keep your pocket an acceptable depth, play with shooter configuration that is legal on a High School approved head.
Keep a mouthpiece attached to you helmet at all times. Also, keep an extra mouthpiece in your bag, you can not play in practice or a game without it.
Consult a coach before purchasing new equipment. It is great to own the latest and greatest thing you see at the store or online, but the person who sells it to you does not have to play with it. Your coaches know your skill level and how you play. They are usually the best person to talk to you about what you need vs. what you want.
Used Equipment Notes:
It is perfectly fine and in many cases preferable to play with used equipment. The Mustangs provided a limited amount of used equipment for use by new players and returning players in need of a quick replacement. Please have any used or hand me down equipment inspected and approved, first parents, and then coaches. While most soft equipment (shoulder pads, rib guards, gloves and elbow pads) is usually fine if clean, fully intact helmets and sticks are governed by strict rules for safety and game play reasons. As always the Mustangs welcome any donation of new or used equipment that we may continue to grow the game in south Louisiana.